Ballers: Edutainment airs Sun 29 Sep on HBO
Edutainment: In the wake of an unexpected tragedy, Spencer prepares for his first owners meeting. While trying to balance work and his relationship with Kate, Joe decides to go on Ricky's radio show. Charles deals with an unexpected health crisis in the middle of his busiest time at work. Vernon, Reggie and Lance try to recruit a trio of gaming siblings for their new league. Jason celebrates his anniversary.
Air Date: Sun 29 Sep 2019
Season 1
10 Episodes
Air Date: 2015-06-21
Season 1 follows various past and present football players as they navigate life off the field. Leading the pack is Spencer, a retired superstar who is trying to find a foothold as a financial manager to current players. Within his inner circle are talented but volatile wide receiver Charles; a reluctantly retired lineman struggling to adjust to life after the game; and rookie sensation Vernon, who lands himself in hot financial water.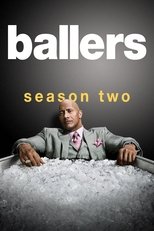 Season 2
10 Episodes
Air Date: 2016-07-17
In Season 2, things are more competitive and complicated than ever. Retired football star turned financial manager Spencer is forced to face demons from his past as he goes head-to-head with the biggest shark in the business, Andre Allen. Meanwhile, Spencer's closest friends and clients struggle to find their footing in a world where it's "go big" or go home.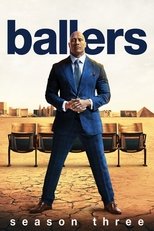 Season 3
10 Episodes
Air Date: 2017-07-23
New City. Same Hustle. Back for their third season, Spencer Strassmore and the rest of the 'Ballers' are ready to bring the heat beyond Miami.
Season 4
9 Episodes
Air Date: 2018-08-12
Spencer and Joe take their skills to Los Angeles as they look to expand their roster and horizons in the world of action sports.
Season 5
8 Episodes
Air Date: 2019-08-25
The final season finds Spencer settling into retirement and reflecting on his past, when an offer that's too good to refuse comes his way and sends him back into the lion's den, this time as a team owner. In the wake of his split with Spencer, an ambitious Joe gambles aggressively to make Sports X greater than ever with the help of his new partner, Lance.
Reviews for
Ballers: Edutainment airs Sun 29 Sep on HBO